Bay Windows Replacement in Green Cove Springs FL
Unlock the secret to a picturesque home with our Bay Windows at Windows of Green Cove Springs. These stunning windows are not only a visual treat but also a functional masterpiece. They protrude outward, forming a bay in a room that gives you panoramic views and floods your space with natural light.
With Bay Windows, you're investing in more than just a view. Enjoy the benefits of added square footage, a cozy reading nook, or extra storage space beneath the seating. Their unique design allows for natural light from multiple angles, and the expanded view can make any room feel larger and more inviting. Plus, they enhance curb appeal, potentially increasing the value of your home.
Our Bay Windows come in various sizes and configurations to perfectly match your space and style preferences. Whether you prefer a classic three-panel layout or a more intricate design, we ensure a tailored fit that complements the architectural integrity of your home.
Caring for your Bay Windows is a hassle-free experience. A simple wipedown with a gentle cleaner keeps the panes sparkling, while regular inspection of the seals and moving parts ensures their longevity and functionality. Our windows are designed for easy maintenance, providing enduring beauty with minimal effort.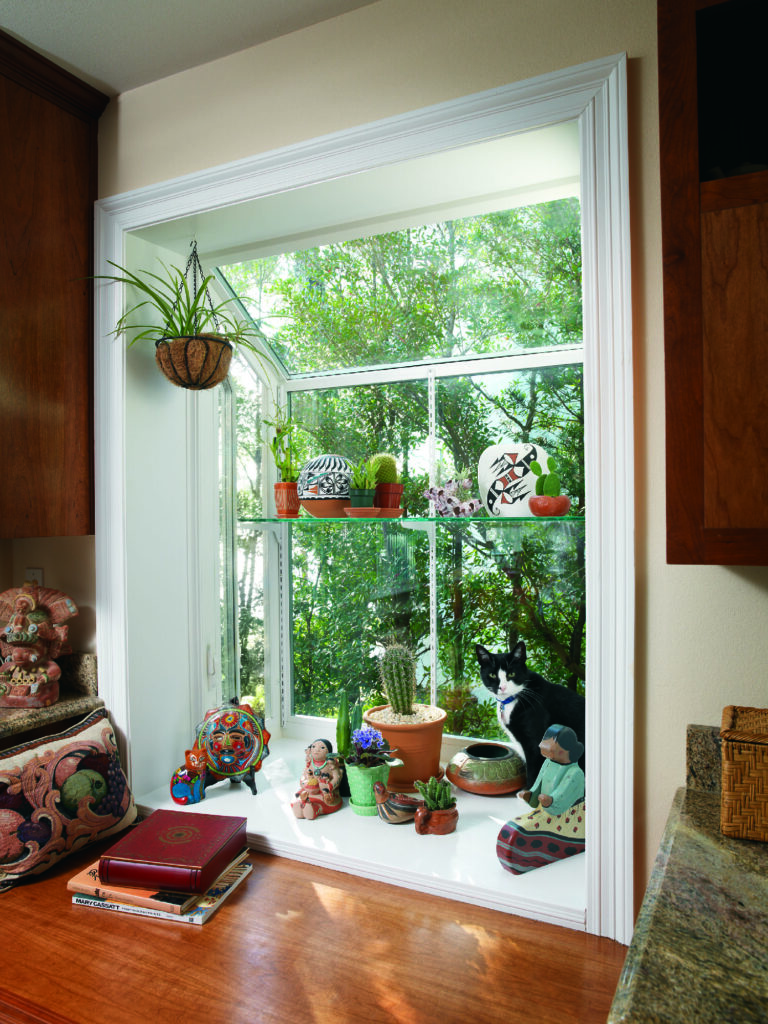 Expand Your View with Windows of Green Cove Springs: Bay Window Variety
Explore the expansive world of Bay Windows with Windows of Green Cove Springs, where every pane and frame is a passage to enhanced beauty and functionality for your home. Our curated selection promises to bring more than just light into your spaces; it brings life.
Embrace the elegance of the Bow Bay Window, where gentle curves meet expansive views. Our team crafts each window to create the illusion of more space, offering a panoramic perspective that is as functional as it is beautiful.
The Box Bay Window offers a traditional aesthetic with a modern twist. Its angular lines and structured form provide a classic look, making it a timeless addition to any room in your home.
Let the light dance into your home with our Circle Top Bay Window. The arching top invites a unique architectural element, blending seamlessly with the straight lines of conventional bay windows.
Historically significant and visually stunning, the Oriel Bay Window adds grandeur to any structure. Suspended above the ground, it is an architectural statement that our team designs with precision and care.
The canted bay window is all about the sharp angles and clean lines. Designed to project directly from your home's exterior wall, it delivers a contemporary feel with a classic bay window charm.
Step into modern design with our Projected Bay Window. It extends outward from your home, offering added space and a distinctive, contemporary appearance that enhances the facade of any dwelling.
Mullioned Bay Windows are a nod to the classic The vertical bars between the panes add both structural support and a traditional touch that can transform the look of your home.
The Compound Bay Window is a multifaceted marvel, combining different window styles into one cohesive unit. Our team ensures each section complements the others, creating a unified, stylish feature.
Soar to new heights with our Cathedral Bay Window. Its peaked arch not only adds volume but also brings a gothic edge to the design, perfect for creating dramatic interiors.
The Trapezoid Bay Window breaks the mold with its angular design. This window type offers a contemporary edge, making a bold statement on any exterior.
Our Hexagonal Bay Window is a six-sided spectacle. It provides a 180-degree view that ensures a flood of light and a spacious feel, ideal for creating a room with a view.
Enjoy both form and function with our Venting Bay Window. It allows for airflow while maintaining the bay window's expansive aesthetic, ensuring that your space remains as fresh as it is bright.
At Windows of Green Cove Springs, we don't just sell windows; we open up new possibilities for your home. Our Bay Windows come in various types to suit your specific style and needs, ensuring that each addition is not just a fixture but a transformation. Choose our expertly crafted windows and experience the difference in light, space, and design.