Hurricane Protection Doors Replacement in Green Cove Springs FL
Hurricane Protection Doors
At Windows of Green Cove Springs, our Hurricane Doors are a beacon of safety and style for your home. Engineered to withstand the toughest storms, they serve as a steadfast guardian for you and your loved ones.
Our hurricane doors are built with high-impact materials designed to resist the extreme forces of nature. Key features include reinforced frames, heavy-duty hinges, and multi-point locking systems for maximum security. They're fitted with impact-resistant glass that can endure the high winds and flying debris of the fiercest hurricanes, ensuring your home stays intact when it matters most.
The benefits of installing our hurricane doors are immense. They offer unmatched protection during storm season, significantly reduce outdoor noise for a peaceful indoor atmosphere, and enhance the energy efficiency of your home, leading to potential savings on energy bills. Their sturdy construction also means long-lasting durability, with minimal maintenance required.
We provide hurricane doors in various sizes and dimensions, ensuring a tailored fit for your home's architectural needs. Our doors are designed to complement the aesthetics of your residence while providing the highest level of protection and functionality.
Maintaining your hurricane doors is simple. The durable materials used in their construction are easy to clean and require only basic upkeep to ensure they continue to perform optimally year after year.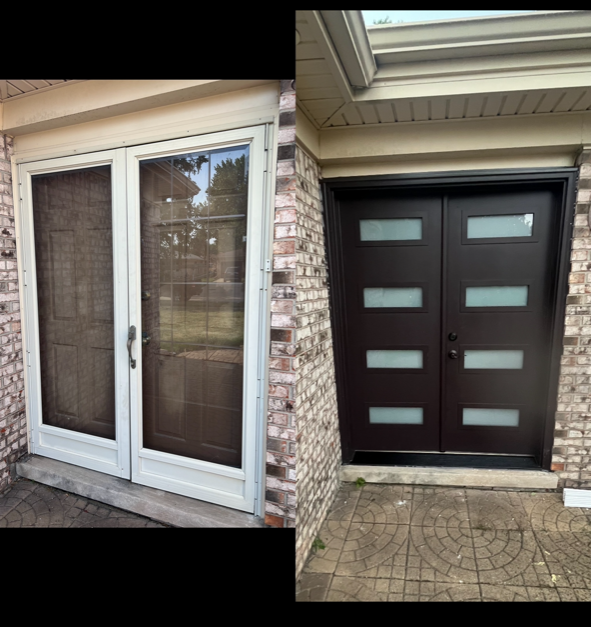 Secure Elegance: Hurricane Door Styles Crafted by Windows of Green Cove Springs
In the heart of Green Cove Springs, Windows of Green Cove Springs presents a collection of hurricane door styles that blend architectural beauty with the resilience needed to stand firm against nature's might.
Our French Hurricane Doors combine timeless elegance with sturdy construction. The dual-door setup is reinforced to resist the powerful forces of a hurricane, offering a romantic yet resilient entry point to your home.
Maximize your space and view with sliding hurricane doors. Engineered for smooth operation and fortified against high winds, these doors provide the perfect balance of form and function.
The bi-fold hurricane doors are the epitome of modern design and space efficiency. Folding neatly aside, they offer a broad, unobstructed passage while ensuring your home's safety during extreme weather.
Dutch Hurricane Doors offer a charming, split-door design, allowing you to enjoy a breeze while maintaining a secure lower half—all fashioned to withstand the demanding conditions of a hurricane.
Single hurricane doors are a testament to simplicity and strength. Each door is built to offer robust protection in a sleek, single-panel format that complements any home façade.
Double Hurricane Doors provide a grand entrance, doubling down on both aesthetic appeal and storm protection. The reinforced structure is designed for homes that require a wider, more imposing entryway.
Louvered hurricane doors add tropical flair with angled slats for ventilation while being fortified to protect against fierce winds and debris.
Our rotating hurricane doors are at the forefront of design innovation, offering a revolving mechanism that adds an upscale, modern touch to your home's entrance without compromising on safety.
Hinged hurricane doors are the classic choice, promising ease of use and reliable durability with reinforced hinges that are built to resist the lateral forces of a hurricane.
Pocket hurricane doors slide away completely into the wall, providing a seamless look. They are the pinnacle of space-saving design, reinforced to provide sanctuary from storms.
Rolling hurricane doors are designed for the modern home, with a mechanism that allows them to roll up out of sight while offering steadfast protection against high-impact weather.
The Tilt and Turn Hurricane Doors offer European charm with multifunctionality, tilting for ventilation or turning for full access, all while being robust enough to weather a storm.
At Windows of Green Cove Springs, our Hurricane Doors are not only about safeguarding your home; they're about doing it with style. Each door in our extensive range is designed to meet the unique needs of Green Cove Springs homeowners, ensuring that when the winds rise, your peace of mind remains steadfast.