Energy Efficient Windows Replacement in Green Cove Springs FL
At Windows of Green Cove Springs, our Energy Efficient Windows are designed with the future in mind, melding top-tier technology with your home's unique needs. We offer windows that not only elevate the look of your home but also contribute to a more sustainable world.
Our windows come with advanced features such as Low-E glass, argon gas fills, and thermal break frames, which work together to reduce energy consumption. The tight seals and innovative glass coatings minimize heat transfer, keeping your home comfortable and your energy bills low. They are a testament to our commitment to quality, offering both beauty and performance.
Customization is key, with a range of sizes and dimensions available to ensure a perfect fit for any home. Our Energy Efficient Windows are tailored to enhance your space, from expansive picture windows to practical sliding designs, all while maximizing energy savings.
Caring for our Energy Efficient Windows is effortless, ensuring lasting clarity and performance. Regular cleaning with a soft cloth and mild detergent will maintain their pristine appearance, while occasional checks of the sealing and moving parts will keep them operating efficiently.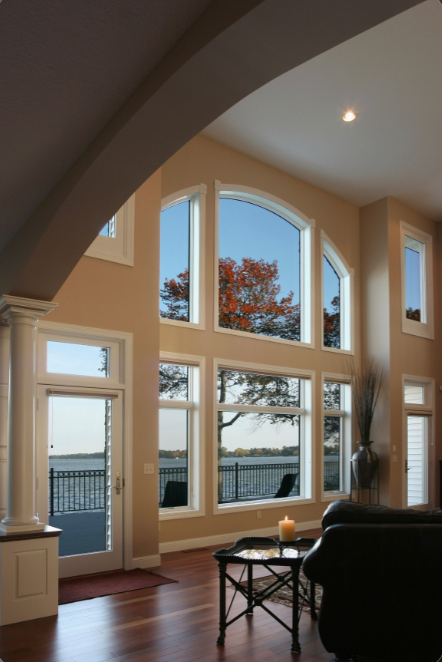 Select the Ideal Energy Efficient Window Materials with Windows of Green Cove Springs
At Windows of Green Cove Springs, we specialize in providing our clients with Energy Efficient Window solutions that merge cutting-edge technology with materials designed to enhance your home's comfort and appearance.
Vinyl windows stand as a popular choice at Windows of Green Cove Springs for their durability and excellent insulation properties. This material resists heat transfer, ensuring your home stays comfortable in any season.
Fiberglass is a champion of energy efficiency. It's strong, durable, and maintains its shape in varying temperatures, which keeps your energy bills down and your home at the perfect temperature.
Wood windows offer a timeless appeal with natural insulating properties. Our wood windows are not only energy efficient but also add an element of classic elegance to your home's design.
Aluminum-clad wood windows give you the best of both worlds: the warmth of wood on the inside and the weather-resistant durability of aluminum on the outside, making them a stellar choice for energy efficiency.
Composite materials bring together the beauty of wood with the strength of modern synthetics, creating windows that are both energy-efficient and easy to maintain.
Steel windows, known for their strength, also offer surprisingly good insulation. When designed correctly, they can be a part of your energy-saving home strategy.
Reinforced vinyl takes the insulation properties of standard vinyl and ups the ante, offering superior durability and energy efficiency for your windows.
Cellular PVC windows are engineered with insulation in mind, providing an excellent barrier against the elements, which can significantly reduce energy consumption.
Windows of Green Cove Springs is committed to helping you find the perfect Energy Efficient Window materials that fit not only your style but also contribute to a greener, more energy-efficient home. Our selection is tailored to provide you with the best in comfort, savings, and design. Let us help you select the ideal energy-efficient materials that will enhance your living space and reduce your environmental footprint.