Bow Windows Replacement in Green Cove Springs FL
Dive into the world of Bow Windows with the Windows of Green Cove Springs, where the fusion of panoramic views and architectural elegance takes center stage. Our premium Bow Windows, known for their sweeping curves and expansive design, offer an uninterrupted vista of the outdoors, turning any room into a panoramic retreat.
Unlock the full potential of your home with the numerous benefits our Bow Windows provide. They extend your living space with their unique design, invite an abundance of natural light, and offer enhanced ventilation options that are as efficient as they are aesthetically pleasing. With their superior design, these windows not only amplify the view but also the value of your property.
Tailored to your home's unique requirements, our Bow Windows come in a variety of sizes and dimensions. Whether you are looking to make a grand statement with a large, striking window or prefer a subtler addition, our team ensures a bespoke fit that perfectly aligns with the architectural style of your home.
Maintaining the luster and functionality of your Bow Windows is straightforward. Regular cleaning with a soft, damp cloth and gentle cleaner will keep the glass pristine, while checking the seals and moving parts periodically will ensure long-term smooth operation and protection from the elements.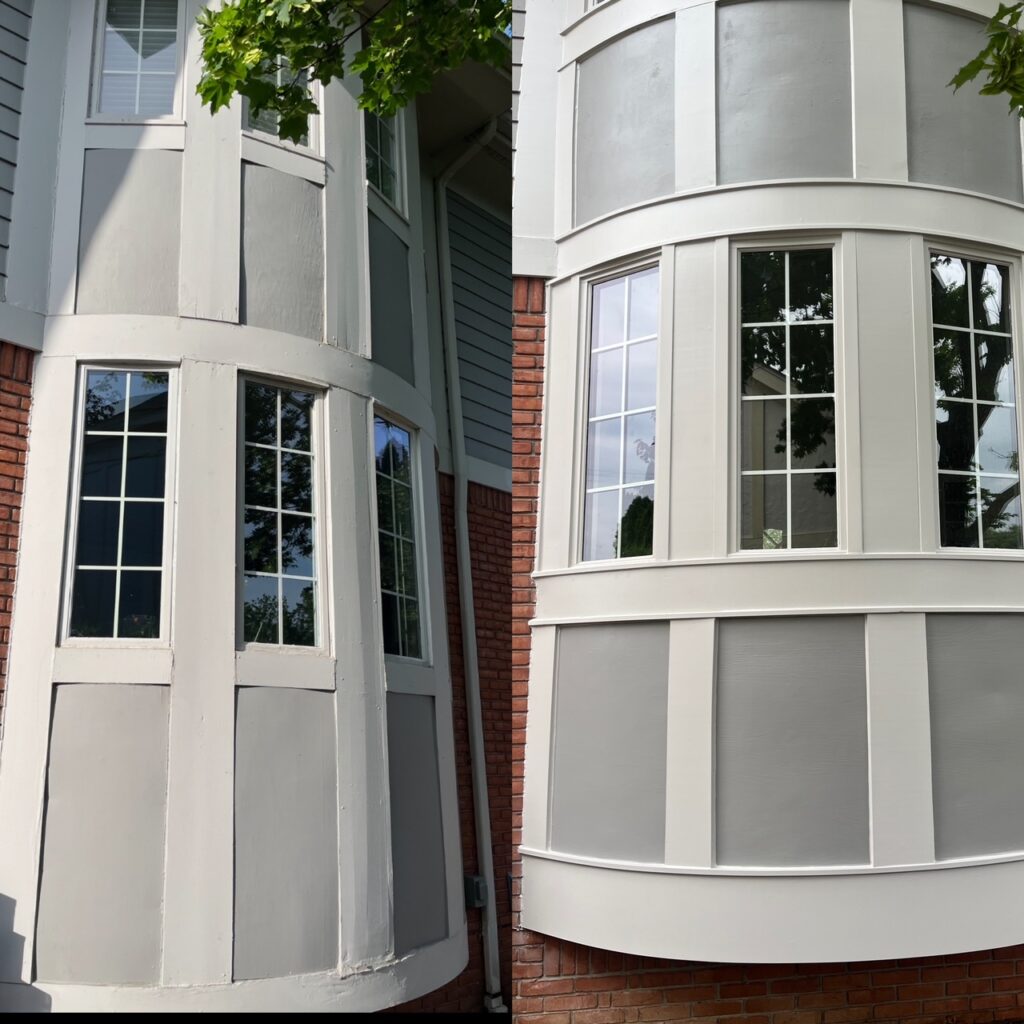 Unveiling Superior Energy-Efficient Bow Windows at Windows of Green Cove Springs
Welcome to Windows of Green Cove Springs, where our Bow Windows are not just a design enhancement but a smart energy choice. Our expertly crafted Bow Windows are the epitome of efficiency and elegance, designed to improve your home's energy performance and aesthetic appeal.
Our Bow Windows featuring Low-E glass are engineered to minimize the infrared and ultraviolet light that comes through your glass without minimizing the light you love. They keep your spaces cooler in the summer and warmer in the winter, all while protecting your interiors from light-induced aging.
Enhance the thermal insulation of your bow window with our Argon gas-filled option. This invisible hero works day and night to increase energy savings and provide superior insulation over traditional air-filled windows.
Experience the ultimate in home comfort with our Triple Pane Bow Windows. With an extra layer of glass, your home will stay protected from temperature fluctuations, ensuring a serene and energy-efficient environment.
Our Double Pane Bow Windows strike the perfect balance between cost and performance. This design feature is the standard in energy efficiency, providing an effective barrier against energy loss.
Choose confidence with our Energy Star Rated Bow Windows. These windows meet strict energy performance standards set by the EPA, ensuring high efficiency and lower utility bills.
Our Bow Windows come with UV protection, safeguarding your family and furnishings from the sun's damaging rays while still filling your room with natural sunlight.
Keep your home's temperature consistently comfortable with our Bow Windows designed for superior thermal insulation. They help maintain your indoor climate, reducing the strain on your heating and cooling systems.
For those in particularly sunny climates, our Bow Windows with Reflective Coating are ideal. They reflect solar heat away from your home, maintaining cooler indoor temperatures without compromising on brightness or views.
At Windows of Green Cove Springs, our Bow Windows are more than just a visual treat; they're a smart investment in the energy efficiency of your home. Crafted with the latest technology and highest quality materials, our windows promise to deliver both beauty and performance. Elevate your home with our energy-efficient Bow Windows and enjoy a brighter, more sustainable living space.