Picture Windows Replacement in Green Cove Springs FL
Embrace the beauty of minimalism and unobstructed views with Picture Windows from Windows of Green Cove Springs. Our Picture Windows are designed to be more than just glass in a frame; they are a portrait of the outdoors for your indoor living space.
Crafted to captivate, our Picture Windows offer an expansive glass area that brings the beauty of the outside into your home. With their large, uninterrupted panes, they present a clean, modern look while providing a flood of natural light. Our windows are custom-designed, ensuring that they not only fit the architectural style of your home but also its precise measurements, for a seamless and aesthetically pleasing finish.
The benefits of installing our Picture Windows extend beyond their impressive looks. They are constructed with energy efficiency in mind, offering superior insulation that can help reduce your heating and cooling costs. The expansive glass provides an abundance of natural light that can enhance the mood and ambiance of any room, and the fixed pane means fewer moving parts, which equates to less wear and maintenance over time.
Each Picture Window is meticulously measured to ensure a perfect fit for your space, with a range of sizes and shapes available. Our team at Windows of Green Cove Springs works closely with you to select or custom-create a window that not only meets your needs but also elevates your home's design.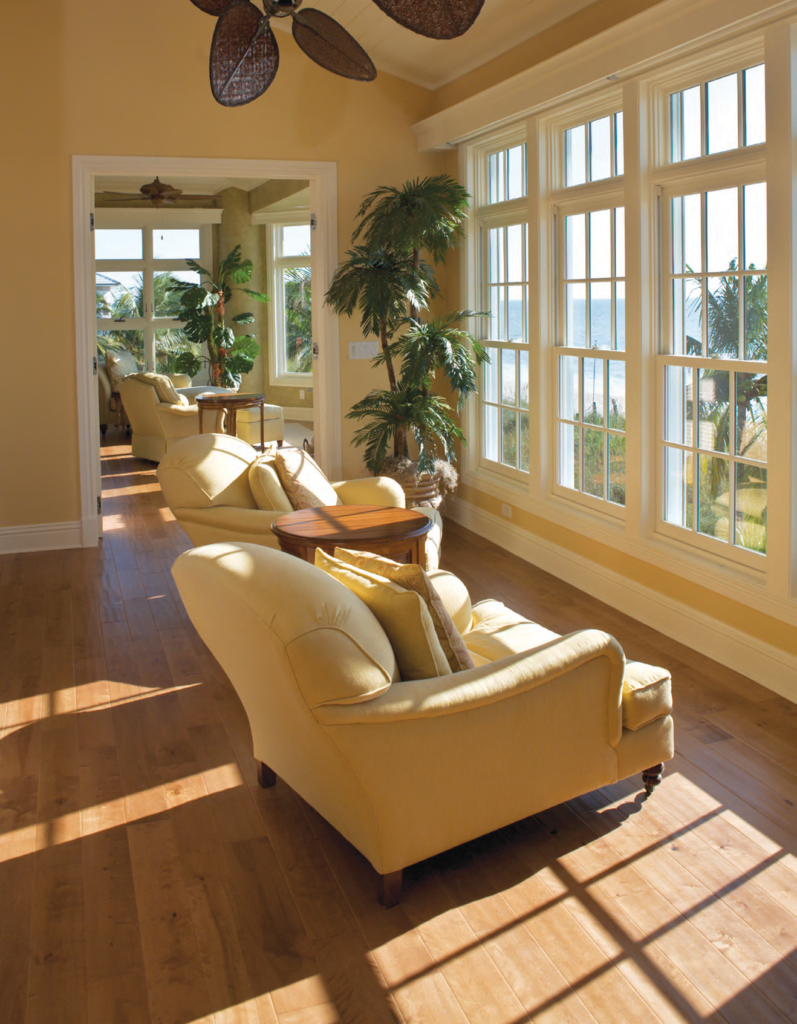 Customize Your View with Picture Window Grid Options from Windows of Green Cove Springs
Elevate the clear expanse of your home's vistas with a range of Picture Window Grid Options offered by Windows of Green Cove Springs. Our selection is designed to complement your personal style and the architectural character of your home.
For those who prefer an unobstructed view, our No Picture Window option offers a clean and expansive glass area, ensuring your view remains the focal point.
The Colonial grid option adds a touch of traditional elegance. This classic style features a symmetrical pattern of smaller panes, reminiscent of early American architecture.
The Prairie grid brings an artistic edge with its understated design, featuring a perimeter of small panes that frame the central glass, evoking the style of the American Midwest.
Our diamond grid option offers a unique aesthetic with a touch of old-world charm. The diamond-shaped panes add a distinctive look that can transform any room into a statement piece.
The Craftsman grid is characterized by its simple, geometric lines, paying homage to the handcrafted style that is the hallmark of Craftsman design.
Choose a perimeter grid for a subtle framing effect. This option highlights the edges of the window with smaller panes, drawing the eye outward to the view beyond.
The Queen Anne grid option infuses historical elegance into your space. Its intricate pattern is a nod to the ornate style of the Victorian era.
Add a radiant touch with our sunburst grid, where the panes fan out from the top of the window in a sunburst pattern, creating a visually stunning focal point.
At Windows of Green Cove Springs, we understand that a picture window is more than just a source of natural light; it's a piece of your home's personality. With our various grid options, you can customize your windows to reflect your style while maintaining the energy efficiency and durability our brand is known for. Choose your ideal picture window grid style and let the light into your home in the most elegant way possible.